YOUR HARDWOOD FLOORS CAN BE RESTORED!
Do you have water damage to your expensive hardwood floors? Don't panic! We can help. Years ago having water damage on your hardwood floor meant an almost certain need for replacement. However, with our drying system, we can not only dry your floors but help restore their natural shape in a matter of days.
When wood floor becomes wet, they expand with little space to do so and usually "crown", meaning swell up at the edges of the boards. What many are not aware of is that this condition can in most cases be easily reversed, saving thousands in repair costs. By using our proven drying and restorative system, we can effectively dry your wood floor in addition to the wood subfloor underneath it as well.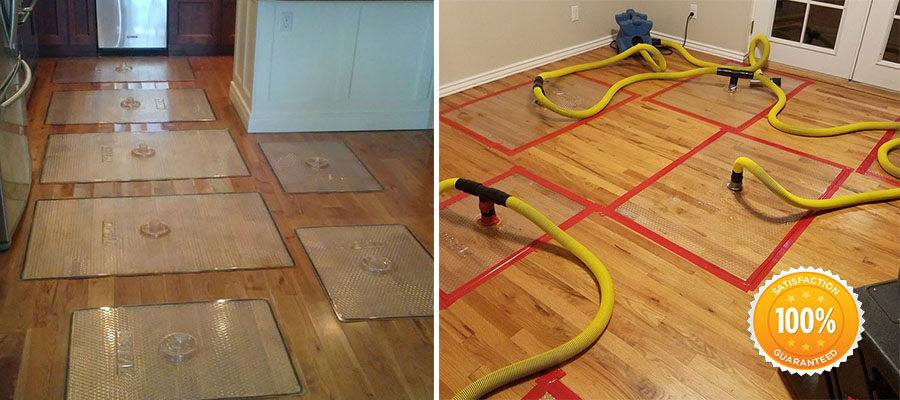 EMERGENCIES DON'T SLEEP. NEITHER DO WE.

24/7 Emergency Service

Certified IICRC & ICRA

Licensed & Insured

Fast Response & Unparalleled Quality

Trusted & Recommended 
OUR PROCESS TO RESTORING HARDWOOD
Our dehumidifiers work to put out air that is over 90 degrees at 15% humidity across the surface of the wood floor. In most cases, we can have your wood floors, clean, dry and odor free in a few days or less, minimizing the need for refinishing.
What you can expect is a quality end result, and as with all our services, our work is backed by a 100% satisfaction guarantee.
WE TREAT YOUR EMERGENCY WITH URGENCY!
If your home or business has experienced water damage due to a burst pipe, natural flooding disaster or a leak, it's important to repair the problem as quickly as possible to avoid expensive repairs and mold problems. Our certified water damage repair experts are ready to take on any of your water damage issues and are trained to professionally and efficiently restore your property to its previous state.
Water damage can have many sources, from loose appliance hoses to natural disasters. Regardless of the source, we can be there to fix the problem and restore damage from water quickly. Below are the most common causes of water damage at homes and businesses:
Leaking, burst, broken or frozen water lines or pipes

Dishwasher or washing machine overflows

Overflowing toilets, bathtubs, or sinks

Crawl space water damage

Hot water tank floods

Heavy rain or storms

Sump pump failures

Leaking roofs